History of Nagasaki Customs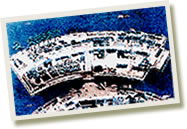 During the isolation period, (1641-1858)the Port of Nagasaki was the only port open to foreign countries in Japan, so all goods and cultures that came from abroad were through DEJIMA Island in Nagasaki.
At first, the TOKUGAWA SHOGUNATE managed all trading though NAGASAKI-KAISHO and MINATO-KAISHO were controlled by NAGASAKI-BUGYO. When the ANSEI treaties of commerce were enacted in 1858, Nagasaki, Kanagawa, and Hakodate ports were opened to foreign countries. It was then the UNJYO-SHO was established in Nagasaki, managing the collection of taxes and inspection of cargoes connected with foreign trade.
History
1571
Trade begins with Portugal.
1636
DEJIMA-island made by DEJIMA-merchants.
1698
NAGASAKI-KAISHO eatablished.
1859
Nagasaki-port opened to trade (along with Kanagawa and Hakodate).MINATO-KAISHO established.
1863
MINATO-KAISHO changed the name to UNJYO-SHO.
1873
Nagasaki UNJYO-SHO renamed Nagasaki Customs.
1892
Customs flag created.

The Customs flag is made of the three colors, each with their own symbolization as follows:
Blue : sea and sky
White: land
Red : Customs as a connecting point
1909
Moji Customs becomes independent of Nagasaki Customs.
1923
Ferry between Japan and China enters service in Nagasaki Port.
1943
Marine transportation bureau absorbs Customs.
1945

Atomic bomb dropped. Former building of Nagasaki Customs suffers heavy damage.
8th U.S. Marine Corps takes over the Customs building.
1946
Resumption of Japan Customs (Nagasaki Customs reopened as a branch of Moji Customs.)
1953
Nagasaki Customs becomes independent of Moji Customs.(Sasebo, Miike, Misumi, Kagoshima)
1953
AMAMI islands returned to Japan.
1969

Present Nagasaki Customs building completed.
1996
Toll-free telephone number against smuggling established.
0120-461-961