Technical Guidance -International Technical Cooperation-
Every country owns its own Customs, and the imported items are analyzed for determining their tariff. The CCL takes an active role in supplying support services for developing countries and other countries that require technological assistance. To contribute to improvement and development of analysis technologies on a global scale, the CCL dispatches its trained staff overseas and accepts trainees from foreign countries for the purpose of providing guidance in analysis technology.
*Click on the graphic to see a larger one.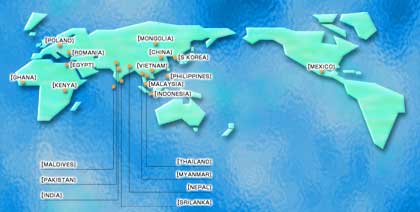 Countries in the world that have cooperative relation to the CCL
Requested Analysis
Research and Development
Technical Guidance