Technical Guidance -Technical Guidance for Customs-
Wide-ranging analysis technologies and analysis methods advance from day to day. The CCL takes advantage of acquired know-how through regular analysis works, investigations and research works and provides technical guidance for the staff at the nine Customs throughout Japan. The CCL also supplies support services, such as periodic meetings for reading research papers and magazines and periodicals covering this field, to improve the analysis standard at Customs.
Training of Customs Chemists
The CCL offers training programs for chemists who work at the nine Customs throughout Japan so that they can improve their analysis techniques. In addition, the CCL sends its chemists to different kinds of academic conferences and to training programs at universities.
Customs Analysis Seminars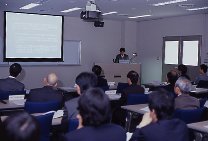 Customs Analysis Seminar
The chemists of the Central Customs Laboratory and Customs nationwide identify and pursue research topics during their daily analytical operations, and report the results of their activities at seminars. Held once a year, these seminars contribute to establish or improve unified analysis methods (Customs Analysis Methods).
Report Published by the Central Customs Laboratory
The report contains announcements of research results in the field of customs analysis, and is distributed to Customs, universities, and research institutes all over the world. The Central Customs Laboratory also participates in various conventions and seminars organized by academia and other relevant organizations and dispatches staff to universities for training.
*Click on the graphic to see a larger one
*This link of this page open new window.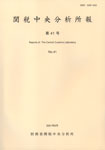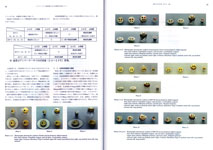 Report of the Central Customs Laboratory
Requested Analysis
Research and Development
Technical Guidance