Special System for Okinawa
With the return of Okinawa to Japan, the Okinawa Tariff Action Program has been established to help build up the Okinawa tourist industry, protect and boost the local business and stabilize the living environment of Okinawan people.
The Tariff Action Program contributes greatly to the Okinawa economic development.

-You can purchase tax exempt imported products at reasonable price.-
What is Okinawa Regional Duty Free Shop System?
It was made in April 1998, by the Okinawa Promotion Special Measure, and is summarized as follows.
The Products Subject to Exemption

As to imported products which are purchased from a retail dealer approved by the Director General of Okinawa Regional Customs, domestic travelers from Okinawa to mainland Japan can purchase them at Customs duty free prices with an allowance of 200,000 yen.

2. Where to Purchase

Naha Airport Domestic Terminal or the designated shop in the city(designated by the Prime Minister).

3. Purchasers

Domestic travelers from Okinawa to mainland Japan(The boarding passes of the airplane will be checked when they purchase the products.).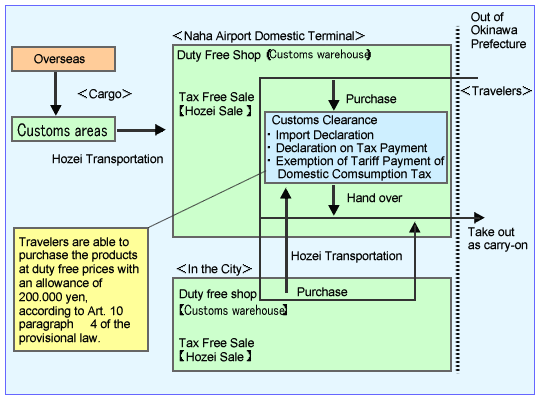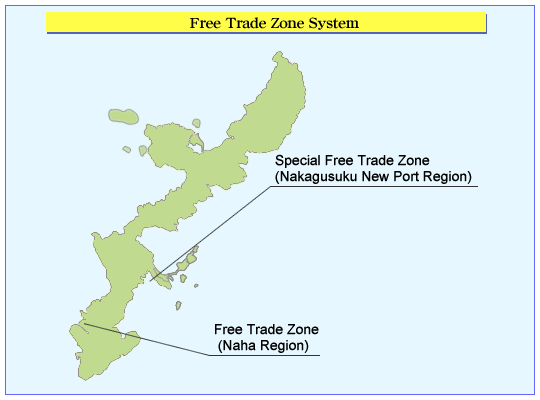 Free Trade Zone in Okinawa is a mixture of the Hozei Area System regarding the Customs Law, which is based on the Okinawa Promotion Special Measure and the preferential treatment of finance and taxation system on the local business. It is the only area designated in Okinawa, which promotes the business and trading.

Process•Produce…process, produce and assemble raw materials, parts and semi-manifactured goods.
Transit•Storage…store foreign cargoes temporarily and import or export to overseas depending on the market.
Quality•Adjustment…inspect, test, remodel, adjust and complete foreign products.
Exhibition•Business Negotiation…Exhibit foreign cargoes and make use of them in a business negotiation.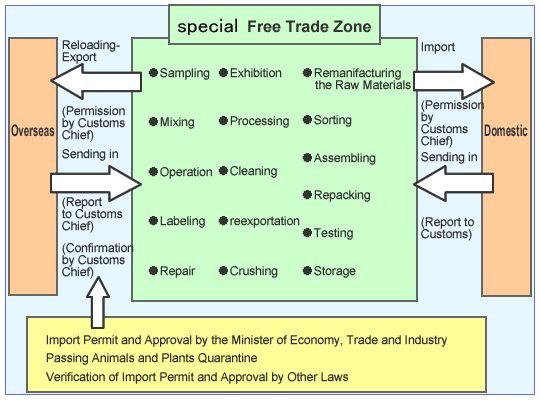 Selective Tariff System
When you import the raw materials or the products processed or manufactured in Free Trade Zone, you can select the lower tariff rate imposed on them.
Generally, outside the Free Trade Zone, the raw materials tax rate is imposed on the importers, but the selective tariff system tariff enables them to choose the products tax rate if it is lower than that of the raw materials.It will give them an advantage because they can reduce the payment of tariff.