Declaration of Accompanied Articles and Unaccompanied Articles
 Japan Customs requires all passengers entering Japan to submit a Declaration of Accompanied Articles and Unaccompanied Articles in order to prevent terrorism and smuggling, and to ensure prompt and proper customs clearance.
 In addition, Japan Customs recommends submitting declarations electronically via the "Visit Japan Web" .
 Please login to the "Visit Japan Web" from the 2D barcode below, and follow the instructions to complete the entry of your customs declaration information.
 After that, a 2D barcode (with a light blue line on top) for customs declaration will be created.
 At airport, please hold the 2D barcode and your IC passport over the scanner of electronic declaration terminal placed at the customs inspection area. Then you will be able to pass through the electronic declaration gate smoothly.
*Passengers may be questioned or have their baggage inspected by Customs officers.
*Electronic declaration can also be carried out at some customs inspection desk equipped with electronic declaration terminal for inspection desk.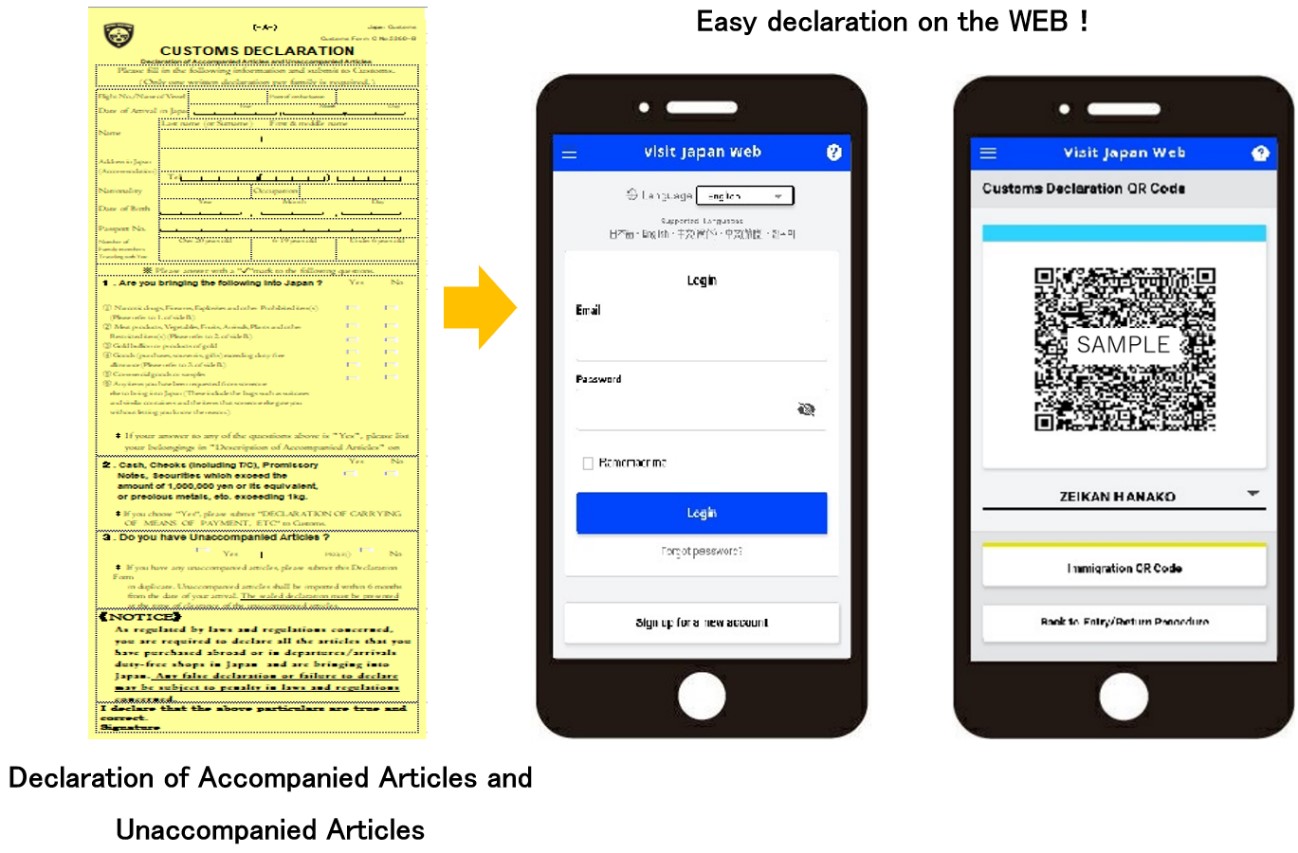 https://www.vjw.digital.go.jp/
For more details about Visit Japan Web, please see the
the Digital Agency website.
*From April 1, 2023, passengers will be required to make a basic electronic customs  declaration using the "Visit Japan Web" service provided by the Digital Agency. New downloads of the Customs Declaration App will be stopped at the end of December 2022.
The Customs Declaration Website will also be discontinued at the end of March 2023.
For more information about electronic customs declaration gate, please see the page below.
The Electronic Customs Declaration Gates (e-Gates) are available at 7 International Airports

Visit Japan Web | Usage Demo at airports